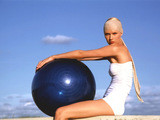 For writers, advice is usually to write about that which one is most familiar. Photographers are frequently encouraged to focus on subjects they feel most passionate about. So when The Compelling Image, amongst premier photography schools online, went in search of "That Person" to design and instruct a model and fashion photography course online, we considered all such advice and went straight to the source - the modelling industry. And it wasn't long before we'd found just who we were looking for - Allana Wesley White, former top-model-turned-top-model photographer.
Canadian-born, Wesley White's international modelling career spanned 12 years before she seriously picked up a camera and focused it on others in her field. Based now in Miami, Florida, she uses the year-round warmth and light of this American coastal city to capture stunning fashion magazine covers and spreads, as well as exciting lifestyle images for major international magazines and advertising campaigns
As anyone close to the business would agree, a start in modelling is more competitive today than ever before. Not only must newcomers and mid-career models possess the current "Look" and talent, but be able to creatively present their abilities to those in a position to hire. For this, a knock 'em dead "Book" to showcase just who they are and what they can bring to a particular fashion or advertising campaign, is vastly essential.
.Allana has been there. She knows the path to that all essential "foot in the door" with art directors, designers and busy editors-in-chiefs. We questioned her recently on several important points crucial to the trade and this is what she said:
(TCI) Having come yourself from a background as model, what advantages do you feel this has brought you as a photographer working with models in front of your own camera?
(AWW) Photographers usually will not tell a model what he or she expects from the images and some don't speak very much at all, so knowing that from my own experience, I am able to give them (aspiring models) tips and suggestions that they will use on every photo shoot. It is worth the time to teach them these tricks and angles, as it really helps with newer models, and even more experienced models become better collaborators in creating the best images we can on the shoot.
(TCI) What qualities / kinds of images should a model's "Book" contain today that are in any way different from those when you were the model in pursuit of a "killer" portfolio?
(AWW) I think the basic criteria for a model's portfolio has stayed consistent, as it answers to the potential client's needs when they are casting for the projects. It varies by model type and market, so it is important for a model to know what they really look like and what market they are best suited for - and build their book accordingly. As always, five strong images are better than twelve mediocre images. It is quality, not quantity.
(TCI) And finally, what advice would you offer an aspiring model wanting to present the strongest book possible?
(AWW) It is so important to be yourself and not try to fit a mold or copy certain types of images. Your first portfolio should truly represent what you look like and show your potential. Be your best self. And tip two - be very careful about what you post on social media - it is not your portfolio and can scare away model scouts and agents if you go too far. Just be yourself!
Among online photography schools, The Compelling Image is fortunate to have such a multi-perspective talent as Allana Wesley White on its international faculty of acclaimed photographers and educators. To her online and interactive courses - Fashion and Model Photography and Photographing Children and Teens, Allana brings career-wide expertise and insight to her teaching that both equips and inspires students to produce the kinds of compelling portfolio images both models and the fashion world are eager for.