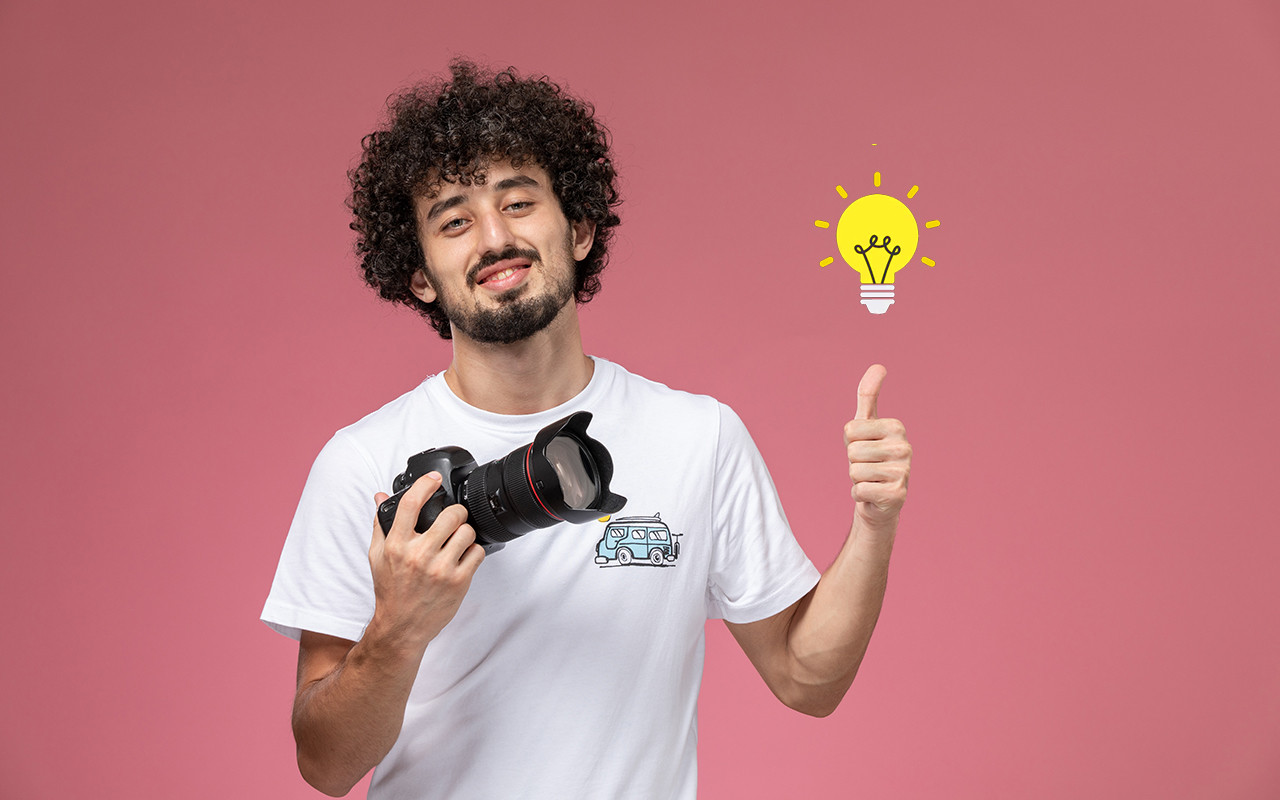 Looking for some creative photography ideas to help take your skills to the next level? Look no further! Here are nine great tips that'll inspire you and hone in on your photographic knowledge. It's a win-win situation!
As a beginner photographer, you may need help finding ideas for what to capture or how best to frame your shots. But there are countless ways of shooting the same subject, and plenty of inspiration awaits you! I've assembled a list of 9 photography tips and techniques that are simple enough for novice photographers but still allow them to take extraordinary photographs! These ideas will be an inspiring challenge for those just beginning their photographic journey.
Select the activities from this list that you find fascinating or have yet to do - no need to perform all of them. Take a stroll through and pick out your favorites!
Remember to bookmark this page or, even better, pin it on your photography Pinterest board so you can quickly revisit it whenever necessary!
Before we begin, it's important to note that some of these tasks may require you to take control of the camera for varying results physically.
The amount of control you have over the aperture and shutter speed differs, but these two settings offer you the most creative options. Master them and watch your creativity soar!
Getting started with the camera settings can be challenging, so I've put together a cheat sheet outlining what aperture, shutter speed, and ISO values are best for different conditions. It's worth grabbing it if you haven't already!
1. Achieve Professional Results With Blurred Backgrounds!
To get things started, let's focus on a straightforward yet effective method of making your pictures appear more professional and refined.
Making the background of your shot fuzzy is an ideal way to ensure all eyes are on your subject, which is why it's a go-to technique in many different types of photography. Furthermore, you can take these stunning photos with any lens at your disposal- no expensive gear is needed!
For exceptional artistic results, use a large aperture (small F number) to achieve a shallow depth of focus and make the background delightfully blurry!
For group shots, it's essential to be mindful of the selected aperture to ensure that your primary subject is sharp and that only the background has a slight blur.
"Unsure of which camera settings to use? Download our complimentary Camera Settings Cheat Sheet and confidently capture stunning images."
2. Use The Rule Of Thirds
To add some extra flair to your images, you can use the rule of thirds—a photography composition tool sure to make a statement.
Visualize your image as a 3x3 grid with horizontal and vertical lines (as demonstrated above). It's that simple! Our eyes are instinctively drawn to the junctions of lines, which means that strategically placing a focal point at these points will create greater visual appeal.
3. Starbursts
If you're a photography novice, then starbursting is the ideal way to add an eye-catching effect to your shots. It's straightforward but will result in mesmerising images! Unleash your creativity with any source of light! Whether it be the brightness from the sun or an illuminating streetlight - you are only limited by your imagination.
To capture this image, photograph any object that emits a point of light and try using an F-stop of 22 or higher. This will help to create the perfect depth of field for the shot.
4. Capturing Timeless Memories With A Classic Window Portrait
To capture stunning portraits, all essential is a broad window with some ambient light (avoid direct sunlight) and an orderly backdrop!
When starting, it's best to have your subject face the light while shooting. This will illuminate their faces, creating soft and creamy skin tones with beautiful catchlights in their eyes. Relax, knowing that you don't need to concern yourself with where the shadows will be!
As "flat light" is not the most captivating, move your subjects so that the window is on their side as you progress in your photographic journey. Adding more shadows to the face can create a striking and dynamic look that will help highlight its depth and dimension.
Read also: https://thecompellingimage.com/blog/pro-tips-for-taking-better-photos
5. Capture Your Subject From The Above
Instead of taking the same pictures from the same angle, let's shake things up and try something new. We all need to be creative with our photography! Capturing photos from an offbeat angle can add a unique flair to your pictures, making them more eye-catching and captivating!
Capturing a shot from overhead always produces an intriguing photo, as we do not generally experience the birds-eye view. Capturing amazing aerial images is easier than ever- rise above your subject and snap away!
If the sun is beaming in your current location, capitalize on it and capture shadow photography for an exciting spin on more traditional portraits.
6. Negative Space
Are you looking to add a more artistic touch to your photos? Negative space composition is the answer! Not only is it easy, but no technical photography expertise is necessary. Let negative space be your creative catalyst, and watch as the results manifest in an impressive image.
Negative space is a purposeful "void" that captures the viewer's attention and helps highlight the subject of your image. Don't let this blank area be an afterthought! Incorporate it into your design, but make sure it's not distracting from the main subject.
By using negative space, such as a black background, in this case, you can bring an air of tranquillity and openness to your image. Take the plunge and give it a go!
7. One Subject: 10 Ways
Whether you're just starting your artistic journey or need some inspiration, this classic artist exercise is the perfect solution. It provides an easy-to-follow yet stimulating challenge that can help to jumpstart and inspire creativity!
It's easy! All you have to do is shoot one subject from ten different angles. If you want to capture creative, unique photographs, use a variety of angles, light sources, colours, and textures. To truly master this art form, there must be an effort toward visual experimentation.
Don't waste your time and energy trying to pick the perfect item. All you need is a simple everyday object. If you still need help, go for my suggestion--the classic EGG!
Read also: https://thecompellingimage.com/blog/rules-of-composition-in-photography
8. Silhouette
If you have an intermediate grasp of photography, silhouettes make a stunning addition to your portfolio. Taking control of your camera in manual mode is essential for capturing one of these shots, and I promise it's a more manageable task than you think! It will be worth the effort once you have captured that stunning shot.
To achieve the desired outcome, taking photographs in manual mode is essential. Otherwise, you may want a different look! Taking control of the three components that determine exposure - aperture, shutter speed, and ISO - in Manual mode allows you to create precisely the kind of shot desired.
9. Motion Blur
Why not actively attempt to capture motion blur? It's a brilliant way to create an eye-catching image while getting acquainted with shutter speed! When the subject is in motion, Motion blur adds a blurring effect to produce more natural results.
Capturing motion blur to give your photos a unique, creative look requires little skill: stay as still as possible and select the correct shutter speed. That's all you need to do!
To wrap it up, here are nine easy-to-implement photography ideas for beginners that will quickly help you to hone your skills!
Over To You!
While these ideas are a great place to start, I'd also urge you to master the techniques behind taking photos like these!
Start your journey today and take charge of your camera by selecting the aperture, shutter speed, or ISO - or, better yet, all three! With this approach, you'll be able to become a photography master in no time!
Your friends would be delighted if you shared this post with them, so don't forget to spread the love and pin it! We'd both be very appreciative.
Frequently Asked Questions (FAQs)
Are you a beginner photographer in search of creative ideas? We have the answers to your most-asked questions!
Q. What Is The Best Type Of Photography For Beginners?
Ans. Landscape photography is a trendy, beautiful genre among amateur photographers. Through your photos, you can make viewers feel as if they are standing in the same spot you were when taking a photograph - allowing them to experience and appreciate nature from a distance!
Q. What Are The 5 Photography Ideas?
Ans. Here are some ideas that will help you capture special moments:
Create stunning black-and-white shots.
Capture the beauty of HDR photography.
Experiment with panning, adding motion to your still images.
Set up an eye-catching silhouette portrait in any setting.
Explore night photography or light painting for dramatic results.
Q. Which Type Of Photography Is Most Demanded?
Ans. Portrait photography is a powerful way to remember life's most important milestones, accomplishments, and family memories. When hiring a portrait photographer, they need to craft an atmosphere that feels welcoming and comfortable – after all, the goal should be beautiful images!
Q. What 3 Things Make A Good Photo?
Ans. Regarding photography, light, subject, and composition are the three most essential components.