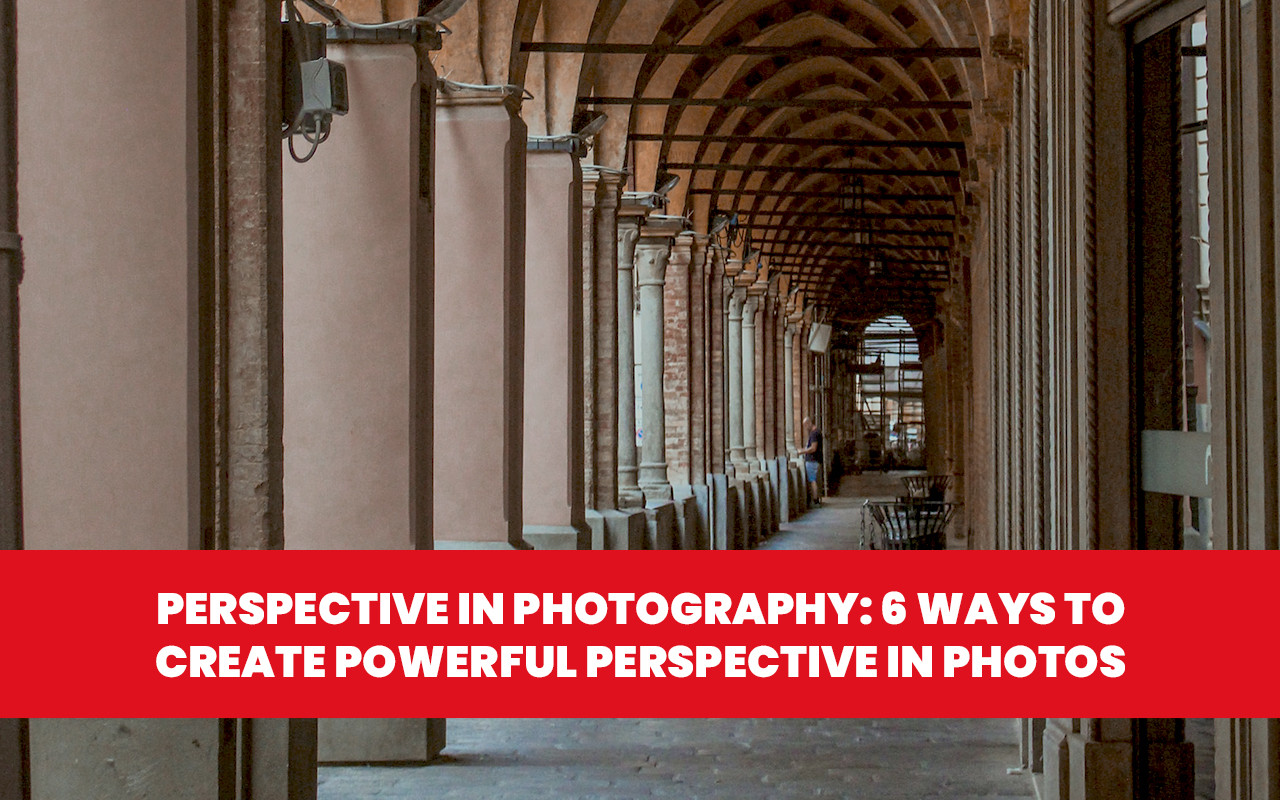 Perspective plays a crucial role in shaping our perception of the world and creating visually appealing images with depth and dimensions. Improving our creative vision can enhance our ability to create art. Understanding the use of perspective in photography, particularly in composition, can significantly elevate the quality of our visuals.
As we continue to learn, develop, and produce, it's essential to understand how to utilize perspective in photography. Doing so can enhance your creativity and enable you to create in any circumstance, even if it involves a variation from your usual methods.
What Is Perspective In Photography?
In photography, perspective refers to how objects in an image appear to be arranged in space, giving a sense of depth and spatial relationship between them. Perspective photography can enhance the depth of your ideas by providing a 3D feel to what is a 2D picture.
Why Is Perspective Important In Photography?
Using perspective in photography can add depth and dimension to your images, making them more immersive. You can achieve this by experimenting with angles, lenses, and camera settings to create powerful compositions.
What Are The Five Types Of Perspective In Photography?
There are various styles or perspectives in photography, such as linear, overlap, diminishing scale, forced, and atmospheric or aerial view.
Linear Perspective
Using converging lines to display depth in an image, linear perspective is the predominant form of perspective photography. To create it, you need parallel lines and a vanishing point, which is usually located on the horizon but can be positioned anywhere within the image.
Linear perspective is typically categorized into three common perspectives: one-point, two-point, and three-point perspective.
One-point Perspective
To add depth to an image, you can use a one-point perspective by drawing two parallel lines that meet at one vanishing point. It seems like how the roads, bridges, or train tracks converge in the distance.
Two-point Perspective
The technique of two-point perspective involves placing two vanishing points on the horizon, similar to the corner of a building where they meet.
Three-point Perspective
A three-point perspective involves two vanishing points on the horizon and a third vanishing point usually located above or below the horizon for a top-down or bottom-up effect, creating the maximum sense of depth.
Overlap Perspective
Overlap perspective is a technique that involves including overlapping layers within your frame to enhance the depth and dimension of your photo or video. The more layers you have, the more dimensional your content will appear.
Diminishing Scale perspective
The diminishing scale perspective is based on how we perceive things with our eyes. Objects that are closer to us appear more prominent, while those that are farther away appear smaller. By including near and distant elements, such as buildings in a cityscape, we can create a more profound sense of depth.
To better capture this perspective, you can consider using a wide-angle lens. This lens type can make objects closer to the camera look more significant in the picture, creating more excellent contrast between near and faraway objects.
Forced Perspective
To create forced perspective photography, place your subject in a particular foreground area and use a telephoto lens. This will compress the image and make the relationship between the background and foreground look closer, resulting in a depth illusion in the frame.
Shooting at a larger aperture is essential because it increases the depth of field and enhances the sharpness of the foreground and background details while minimizing the blurring that can affect perspective.
Atmospheric or Aerial perspective
Aerial or Atmospheric perspective uses the natural reflection of light and color in nature to add depth to your images.
When light travels through our atmosphere, particles, and molecules in the air scatter the lightwaves, which affects how we perceive light in two different ways.
Closer objects appear darker, while things farther away appear lighter, just like the layers of mountains where the distant layers are lighter in color.

All colors except white will appear to fade as they spread farther out in an image.
If you understand how light and color behave in the atmosphere, you can use natural elements such as fog or clouds to create a sense of depth by showing how contrast and highlights decrease from the foreground to the background.
6 Ways To Create Powerful Perspective In Your Photos
Look Up, Or Down
One way to create a unique perspective is by adjusting the camera angle upwards or downwards. We look straight ahead when taking photos, but exploring different angles can provide a clear view that captures attention.
It would be best to experiment with different perspectives when taking photos, such as shooting upwards at a cityscape or landscape or downwards at a city grid, river, or canyon. This can create captivating and unique images that add variety to your portfolio.
Use Leading Lines
One of the essential techniques in photo composition is leading lines. When used effectively, they can create a powerful perspective in photography. To achieve the desired photography perspective, it is advisable to crouch lower, possibly close to ground level, and let the leading lines that you are emphasizing direct the viewer's attention to the foreground subject.
A great example of a top line in a photo could be a road, wooden dock, trail, or bridge that guides the viewer's attention toward the image's subject.
When used and photographed correctly, the leading lines are lovely. They offer an engaging perspective and should be used consistently in photography.
Look Through To Your Subject
Another helpful photography technique is using an object as a frame for your subject. This creates a natural structure and draws the viewer's attention to your topic, similar to leading lines.
You can use a window, tree branches, or even your camera or phone screen to frame your image subject and make it more attractive to the viewer. Ensure the frame doesn't draw attention away from the subject, which could lessen the impact of the perspective.
Get Close
Macro photography is often the first type we learn during our younger years. We bring our camera close to capture a close-up perspective of a caterpillar crawling in the yard or a bouquet inside the house. As we delve deeper into photography, we usually shift our focus from macro photography.
Macro photography provides a unique and beautiful perspective by allowing you to capture small details up close, and this style of photography should always be valued.
Macro photography allows photographers to capture intricate details of plants, flowers, or even the vibrant colors of a human iris. This perspective can open up new dimensions in photography that are not visible to the naked human eye. It's a great technique to try and can help expand your photography skills.
Capture Scale
Capturing scale in photography is crucial because it allows you to create powerful perspectives. By using dimension, you can demonstrate the size or expansiveness of your subject through this technique. This process requires proper execution to achieve the desired results.
Compression and a longer lens, such as a 70-200mm or 100-300mm, are effective methods of capturing scale. Using a telephoto lens while standing far away from your subject can result in lens compression, where objects in the background appear closer or more significant than they would with a broader lens. It means that the increase in depth of field results in your entire image, including the subject and background, being equally in focus.
One of the most effective ways to depict vastness and grandeur is by including humans in a large and beautiful landscape. It can display the relative size between human and natural landmarks such as mountains, waterfalls, or canyons.
Photography can showcase scale in a very inspiring way if done correctly. Even though it is a slightly more challenging technique to master, it can yield some of the most satisfying results once you get the hang of it.
Utilize Reflections
Finally, another way to gain perspective is by using reflections and creating a mirrored image of your subject.
There are two ways to achieve this. Firstly, you can use a mirror to capture the subject's reflection behind you. Alternatively, you can grab a mirrored image of your subject by using still water, such as a puddle, pond, river, or lake, as well as glass or a mirror.
No matter how you capture them, reflections can add a beautiful perspective and dimension to your subject, such as a person, building, or landscape.
Wrapping Up..............
To thrive in the future, particularly if you plan to pursue a photography career, it's crucial to become knowledgeable about and flexible with technology, given the present era of innovation. Learning about perspective in photography could be a useful option for you to pursue your photography goals. View in photography means how objects in a picture are positioned about each other, creating a sense of depth and space. Perspective photography can make a 2D image look 3D by enhancing its sense of depth. The blog has explained different terms, methods, and queries associated with perspective in photography. We aim for the provided information to assist you in finding what you need related to the photography perspective.
Frequently Asked Questions (FAQs)
To improve your photography skills, I've compiled a list of frequently asked questions about using perspective in photography. Check them out!
Q. What Are The 5 Types Of Perspective In Photography?
Ans. Photography has various types or styles of perspective, such as linear, overlap, diminishing scale, forced, and atmospheric or aerial perspective.
Q. What Is An Example Of Perspective In Photography?
Ans. One-point perspective photography is demonstrated by railroad tracks disappearing into the distance. This effect can also be achieved by standing on a bridge, road, or straight path where the sides form two parallel lines that converge at a vanishing point.
Q. Why Is Perspective Important In Photography?
Ans. "Perspective is used to give an image the appearance of depth," explains Rose. "When a camera captures the three-dimensional world onto a two-dimensional surface, perspective tricks the eye into perceiving depth within the image."
Q. What Are The 4 Elements Of Perspective?
Ans. A perspective drawing consists of four components: the horizon line, vanishing point, orthogonal lines, and three-dimensional forms.