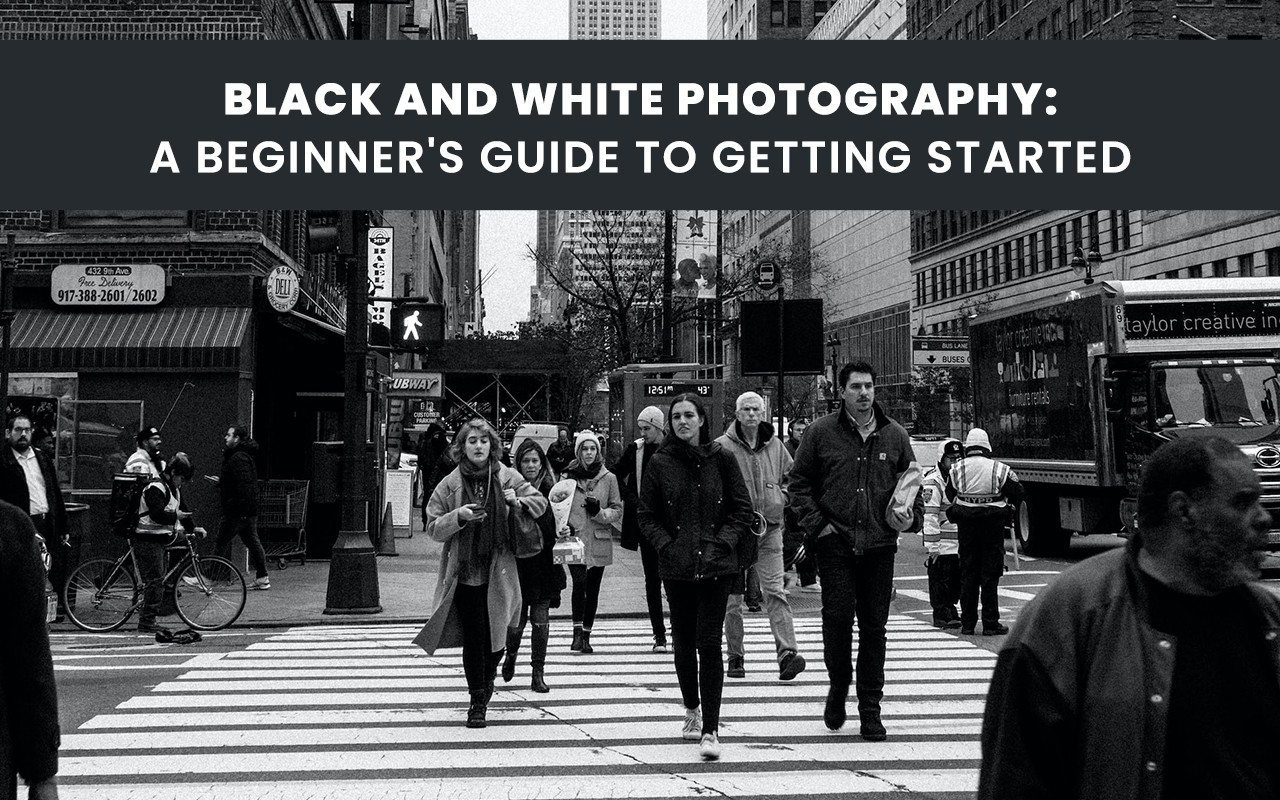 If the idea of black-and-white photography is new to you, it may be overwhelming. If you're new to black-and-white photography, the questions can seem overwhelming. Do I need to set my camera's settings differently? How do I convert color images into stunning monochromatic shots? With this guide, we'll provide all the answers so that you can start creating beautiful photographs immediately.
I'm certain this article will answer all your inquiries about the importance of black and white photography, provide simple instructions on how to do it yourself, and even give you some helpful tips!
Why Is Black And White Photography Important?
Black and white photography is an art form with a storied past. Appreciate the beauty of Ansel Adams, Edward Weston, or Henri Cartier-Bresson's monochrome works for breathtaking pictures!
Even more importantly, shooting your photos in black and white can significantly help you increase your photography skills.
How?
It's all about seeing.
Color is a potent force in photography. It can take center stage and cause newcomers to miss crucial factors such as texture, contrast, shape, form, and lighting quality.
Seasoned photographers capture these moments without fail, regardless of their preference for color or black and white. Black-and-white photography can be incredibly useful whether you're just beginning or have been in the game for a while. Doing away with color distractions helps draw attention to other important elements of your photos.
It is no mystery that some themes exhibit better in black and white than others. Landscapes and portraits appear particularly stunning when presented in monochrome.
If you're just experimenting with black-and-white photography, these subjects are the perfect place to start!
How To Shoot In Black And White?
Before the rise of digital photography, black-and-white images could only be created with film.
Now, fortunately, you have two options:
You can shoot in color to capture breathtaking photos and later switch them to black and white with Lightroom, Photoshop, or any other post-processing tool.
Enact the Monochrome mode on your camera to get a stunning black-and-white shot.
Without hesitation, I strongly endorse selecting the second option, and here's why:
If you shoot in black and white from the start, expect striking monochrome previews on your camera's LCD. Live View mode allows you to experience the wonders of photography in stunning clarity and detail. If you're using a mirrorless camera, the black-and-white viewfinder will help you determine how various colors will be captured when taking your photographs before you snap away.
If you're curious about how to shoot in black and white, don't fret - it's quite simple! Just reference your camera's manual for guidance.
One last piece of advice here:
Always shoot in RAW, or even better - RAW+JPEG. By pressing the shutter button with this setting enabled, you'll be able to capture a file of each format with every snap!
RAW essentially serves as your backup plan. If you ever decide that you don't like the results of a black-and-white photo, then all it takes is a few clicks to go right back to color! Plus, if extensive editing needs to be done in post-production, it will give you the flexibility necessary for desired outcomes.
Even if you're just starting with photography and only want to use JPEG for now. However, I encourage you to switch to RAW at some point; it will guarantee better results in the long run!
Read also this article: https://thecompellingimage.com/blog/best-photography-ideas-for-beginners
Working In Monochrome Mode
Above all, I firmly suggest you switch your camera to Monochrome mode for basic black-and-white photography. There is no extra effort needed once the setting change has been made!
However, when you've shifted to Monochrome mode, a range of color filters are at your disposal. With the precise application of these filters on your photos and videos, capturing even more stunning black-and-white shots becomes achievable!
Color Filters
Remember the days of film photography, when photographers used color filters to modify tones in black-and-white photos? Nowadays, digital photographers rarely work with physical color filters – they just use camera software or post-processing mods that simulate filter effects.
Your camera may have several hues of filters to choose from. For instance, you can use a yellow or orange filter to intensify the blue sky, while red-colored filters could darken it almost entirely.
Green filters can be beneficial when highlighting details in green subjects such as foliage-filled forests.
Digital cameras now typically offer four colored filters (red, orange, yellow, and green) to capture black and white shots.
Read also this article: https://thecompellingimage.com/blog/pro-tips-for-taking-better-photos
A Quick Tip: Don't Forget About Contrast!
When you snap a photo in an area with dull light, such as the shade or underneath cloudy skies, it may appear drab and lifeless - particularly when viewed in black and white.
So what do you do?
You can boost the impact of your image by increasing its contrast. This will make details in the shadows and highlights stand out while making your primary subject pop off the page!
From my perspective, the amended outcome is tremendously more impactful.
You can adjust the contrast of your photo either after you've captured it, in a program such as Photoshop or Lightroom, or right away by changing the camera's contrast settings (consult your user manual if needed!).
Composing In Black And White
Did I mention that shooting in black and white forces you to contemplate other important components, like form and shape?
The power of composition shines through when capturing photographs in black and white, so paying close attention to the frame is essential.
Capturing stunning compositions isn't easy, but with practice, patience, and ambition, you can hone your 'eye' to recognize shapes, lines, and textures. Studying or looking at masterful photography will aid in developing this skill too!
Nevertheless, there is one item that could drastically enhance your black-and-white photos:
The proportion of the image's width and height.
Did you know that certain aspect ratios, like the 1:1 or "square" format, make composition easier and more intuitive? On the other hand, most cameras come with a 3:2 ratio which can be difficult to work with.
Switch your camera's aspect ratio to square to get the most out of your monochrome photos. Not only will this help you compose better shots, but if your device has an electronic viewfinder, it also provides a live preview of the modified composition!
Toning In Black And White
Bringing vibrancy to your images is a breeze when you add tones after transforming them into black and white!
This can create stunning effects - for example, it can transform your photos into a dreamy yellowish, purplish, or reddish hue.
Your camera may allow you to tone your photos when shooting, but it is recommended to avoid this as the effect generated can appear overly intense.
Why not experiment with toning in post-production for a change? Adding an attractive sepia tone to your images can be fun. If you're looking for something more imaginative, try split toning! This technique involves adding multiple tones, giving your photos a unique appearance.
Black And White Photography: Final Words
As you gain experience, the beauty of black-and-white photography will become even more evident. Working with this medium is an amazing opportunity for creativity and development.
As you continue your journey, take pleasure in the process and be proud of yourself for walking the same path as some of the most well-known photographers!
It's your turn now:
Have you ever experimented with black-and-white photography? How did it go for you? Are there any particular subjects that look especially good in monochrome? Share your insights in the comments below!
Frequently Asked Questions (FAQs)
Here are some of the questions users asked about black-and-white photography.
Q. What Is Black And White Photography Called?
Ans. Monochrome photography is exemplified in black-and-white imagery, wherein various shades of grey depict the many colors within a picture. Monochromatic photographs create striking visuals that capture timeless moments with captivating clarity by solely utilizing tones of one hue.
Q. What Is Special About Black And White Photography?
Ans. With black and white photography, you can eliminate any distractions of color and direct the attention to other elements in the photo, like texture, shapes, patterns, or composition. With this type of photography, you can still employ techniques such as the rule of thirds that would be customary for color photos too!
Q. How Do I Start Black And White Photography?
Ans. The old-fashioned way of achieving a black-and-white image was to use plain, black-and-white film, but now you have two different ways of obtaining that classic look. You can either take your photos in color and then transform them into monochrome using Lightroom, Photoshop, or other editing software; alternatively switch your camera to its Monochrome mode for optimal results immediately!
Q. From where I can learn Black and White Photography?
Ans. You can buy Black and white photography course here at The compelling image where you will be working on lesson and courses with award winning instructors.